Read the article here
Riis Academy-InfoTech Partners with LIC Museums
Teens participating in our Riis Academy-InfoTech Learn & Earn program have recently been exploring the arts by working directly with museums in Long Island City. High school juniors Jade Rosendo and Emily Vargas (pictured above) were just selected as the only two teens to participate in a prestigious Video Performance Workshop series led by the Museum of the Moving Image (MoMI). Jade and Emily will engage in a month of intensive video development training and will even have their films included in a short premiere at the museum. Emily said: "I am excited to be part of this. I am just getting started as an artist. This project is 'next level' and I am glad I took the chance." Jade shared her enthusiasm: "I see this program as art in action. Art is like me in many ways…. It is always changing."  Our staff and the other program participants look forward to attending the premiere once the date is announced.
Another Riis Academy-InfoTech participant, Cecelia Castellon, has been an active member of the Museum of the Moving Image's Teen Council since this summer. This program serves teens interested in curation, public programming, and day-to-day operations of arts and cultural organizations, allowing them to partake in visiting-artist lectures, planning of large-scale events, work in community engagement, and more. Cecelia got the opportunity to present in front of the press at the museum's gala honoring Puerto Rican actress Rita Moreno this December.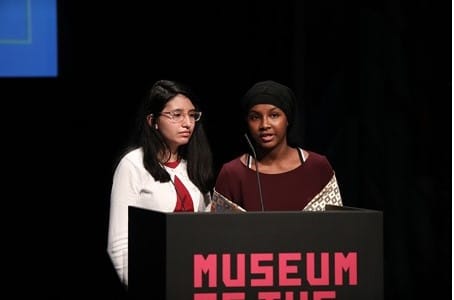 Our program has also been fortunate to work with the Noguchi Museum. High school senior Brenda Saldivar has begun her work as a member of the Noguchi's Teen Advisory Board. She is part of a group of just six teens who are advising and helping to shape the future evolution of the museum, providing direct input, and helping to guide themes of future installation. About her experience thus far, Brenda said: "The Noguchi Museum not only taught me to see different forms of art … the experience taught me how to express myself more.  Art is connected to your emotions. It can show emotion to others without words being exchanged. The Riis program gave me this opportunity and a connection to be part of the Art Community at a time I needed it."
All these opportunities provide stipends and help youth make ends meet in tough times, while providing a chance to grow and connect with others. We are grateful to partner with highly regarded cultural organizations like MoMI and the Noguchi Museum, and we can't wait to see what our students will do next!